Web Development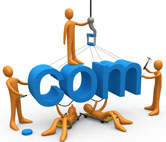 Creating a website and developing it on internet exclusively enhance customer's oriented business in real time. This customer's oriented website lures as many as customers towards your products that have a great support, which are not only beneficial in terms of business point of view but also knowledge point of view. A website acts as a necessary step towards better business sensibilities that guides you and your customers in any questionnaire and takes benefits of online marketing.
Web development is a term used to describe a range of services from online applications, ecommerce applications, web applications, and information websites.Web development is broken down into two areas: front-end development and back-end development. Front-end developers are a mix of a designer and a back-end developer. They are responsible for turning designs into a web site, user interface and JavaScript widgets. Back-end developers generally have no artistic ability and have not seen the light of day since they first turned on a computer. They spend their spare time watching Star Trek and coding Nintendo DS emulators. Back-end developers are responsible for programming into existence all the functions of your web site that it's users will experience but never see - XML parsers, elaborate product databases, eCommerce integrations etc.
We carefully study each project understand the client's needs and objectives and deliver a dependable solution. We make you aware of all available options and provide you with a competent advice enabling you to take an informed business decision.
Lingoway's Six-Step Approach to Web Development
We work on all the latest technologies in use, most of our works are in PHP,MySQL and ASP.NET though. Whether you buy our desktop application or web application development services, we will ensure that you receive full and recurring return on your investment. Custom Software and Web Application Development
Our Web Development Technology Expertise:
Languages: HTML, DHTML, ASP.NET, XML, PHP, JavaScript,AJAX,Flash ActionScript, C/C++
Platforms: Windows, UNIX, Linux
Databases: Microsoft SQL Server, MySQL
Servers: IIS 5.0/6.0, Application Server 2003, Apache, Commerce Server 2000, BizTalk Server 2000
Thinking of building a website?
If you are thinking to build a website or renew already existing one, please visit our contact page, fill the form there specifying your requirements and we will prepare a quote.