Web Designing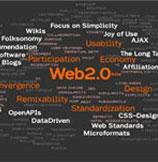 Website is the online identity of a company which represents a company, sell company's name, and generate more business leads, attract more visitors, promote company products and helps to gain more return on investment. As the Internet is becoming the indispensable part of our life, so a need to promote the business on web arises. Today every business owner wants to emphasize on their trade through internet marketing and thus requires an eye-catchy website design to do that.
Website designing involves creativity. A website design theme should be able to portray your business. Eye catchy web designs attract visitors and forces them to stay on website. One more important thing in website designing is that the graphics should be match with content and the business theme.
Web 2.0 Design
We offer Web 2.0 web design solutions which allow users to do more than just retrieve information. Web 2.0 is the social web, which is a fundamental shift in the way we communicate. The social web consists of a number of online tools and platforms where people share their perspectives, opinions, thoughts and experiences. Web 2.0 Applications tend to interact much more with the end user.
To learn more or to start a free evaluation of migrating your applications at web 2.0 platforms, please contact WEB 2.0 COE at info@lingoway.com.
Features of Our Website Designing:
Designing will be according to target market area
Conceptual use of color
Clear and crisp designing with selection of right images
Fast loading pages
Intuitive/effortless navigation
Clean, organized pages
An appropriate balance of text and images
If you are still grappling with thoughts on how to stitch together an SEO friendly web design, how to build your new website or provide that much needed make-over to an existing one, leave all your worries aside and contact us for an unforgettable and satisfying experience.
At lingoway we first focus on your bottom line requirement and then proceed for its accomplishment.
Thinking of building a website?
If you are thinking to build a website or renew already existing one, please visit our contact page, fill the form there specifying your requirements and we will prepare a quote.